You need a work truck but aren't sure if you really need to pay extra for the Dual Rear Wheel Truck or if the Single Rear Wheel truck will be enough to get your job done.  
 So what is the advantage to Dual Rear Wheels?
Our Oregon roads have a limited strength, just like all over the country.  When you have more tire surface contact with the road it helps to keep the weight and stress on the road in legal limits.  Most of the damage done to our roadways are actually due to work trucks carrying heavy loads; other than the ice and winter weather of course.  
Dual Rear Wheel (DRW) trucks are available in either 4X2 or 4X4 and increase rear traction while improving stability and providing increased rear axle weight ratings.  
Embrace peace of mind knowing that trailer sway control is standard equipment on Super Duty Pickups both SRW and DRW.  Dual rear wheel pickups that are not equipped with Advance Trac provide trailer sway control function through a yaw motion sensor incorporated into the vehicle braking system that allows the vehicle to monitor for trailer sway and to respond by applying brake force to either of the front wheels or reducing engine power to help regain trailer control.  
Safety - The dual rear wheels provide an added layer of protection in the event that the truck has a blow out or gator.  This also protects the roadway and the other vehicles on the road.  Many dually drivers say that they greatly appreciate the redundant set of tires especially if they have experience with a blow out at higher rates of speed.  
Hauling Animals - If you plan to haul or horse trailer or really any animals that have the propensity to move around while in transit you want the extra stability and contact with the road to keep your animals stable and safe in their stalls.
Consult the Specification for your Tire for a better understanding as well.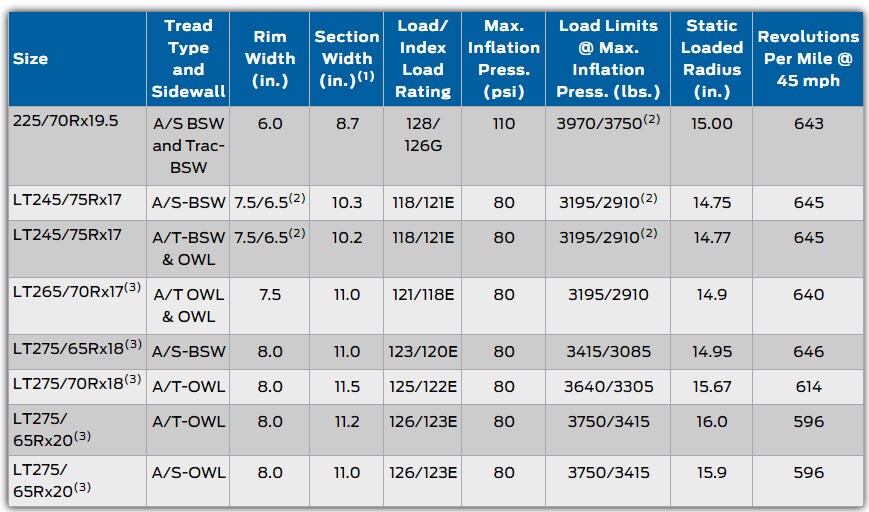 Common Questions    
Does the Prep Package include a 5th Wheel or Gooseneck Hitch?
No. The prep package includes only the required vehicle substructure and pickup box integrated 7 pin wiring connector.  This serves to facilitate the installation of one of the 5th Wheel or Gooseneck Hitch Kits, available from the factory or thru the Ford Genuine Accessories.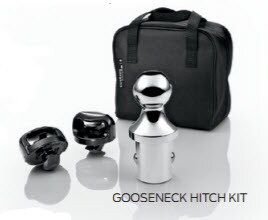 Is there anything unique about the design of the Ford gooseneck hitch ball?
The hitch ball was designed so that it can be easily removed and stored by simply pulling the release mechanism on top of the ball and removing it from the support cross-member.  The pickup box surface is now completely flat and ready to haul cargo.  Other hitch balls may require that a lever or rod be used inside or outside of the pickup box to be removed.  The patented hitch ball design also helps prevent unintended hitch release while the trailer is attached.   
Are there any other restrictions associated with any of the Ford hitch kits?
Bed mats, drop in bed liners and the stowable bed extender are not compatible with the hitch kits.  If additional bed protection is required, Gresham Ford suggests the Tough Bed spray-in bed-liner.  
SUPER DUTY READY-TO-TOW FEATURES
Available Ultimate Trailer Tow Camera System
Class Exclusive customer-placed trailer camera from the factory
Available Tow Tech Bundle on Larait and King Ranch trucks.  This is a standard feature on the Platinum edition trucks.  
Trailer Tire Pressure Monitoring System 
Torq Shift Automatic Transmission with Select Shift Transmission includes tow/haul mode with Progressive Range Select as well as Manual Mode that allows you to shift between gears.
Drive selectable engine exhaust brake with new Auto setting on the 6.7L Power Stroke V8 Turbo Diesel trucks
Hill Start Assist and Trailer Sway Control features are standard.
Built Ford Tough Trailer Tow Packages
High Capacity Trailer Tow Package on F-250
Six enhanced upfitter switches and trailer brake controller available
Dynamic hitch assist and Smart Trailer Tow Connector are also available.  
5TH-WHEEL GOOSENECK HITCH PREP PACKAGE
5th Wheel Gooseneck Hitch Prep Package provides the necessary under box hardware that allows the installation of select 5th Wheel or Gooseneck Hitch Kits in the box.  
The prep package provide a flat cargo box floor when any of the 5th Wheel or Gooseneck Hitch Kits are not in use. This is not always the case with many of the aftermarket options offered by other Ford Dealerships.  
This Package is available on 4X4 models from the factory. 
5TH WHEEL/GOOSENECK TRAILER HITCH KITS
There are four different kits available for your consideration. 
The Gooseneck Dual Hitch Kit is rated at 27,500 lbs and is available on 2 5/16 inch ball that can be installed and removed from the inside of the box.  This kit works for both SRW and DRW applications with both the 6.75 and 8 foot truck beds.  
The Gooseneck Dual Hitch Kit is rated at the best is class maximum towing capability of 32,500 lbs. and is available on F-450 only.  This kit features a 3 inch ball and requires for the 32,500 pound rating, a 2 5/16 inch ball is rated to 27,500 lbs and has heavy duty safety chain tie down bars.
The 5th Wheel Hitch Kit is rated at a best in class maximum towing capability of 27,500 lbs but is only available with the 8 foot truck bed.  
Lastly there is a 5th Wheel Hitch Kit that is rated at 18,000 lbs and is also exclusively available in the 8 foot truck bed.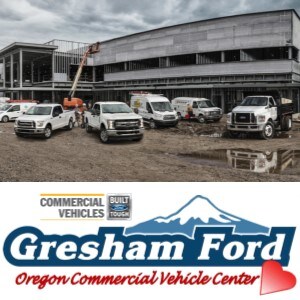 For more information on packages and available equipment contact our Gresham Ford Commercial Vehicle Support Manager.