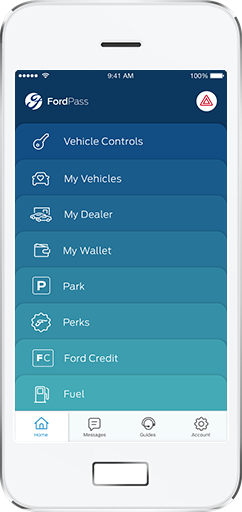 Ford Pass provides a multitude of features that make your Ford ownership experience even better.  This is simply a great way to enhance your experience by having a
smarter, better, easier way to move freely throughout your day
. Vehicles equipped with Sync Connect powered vehicles allow you to remotely start your vehicle, lock and unlock doors, and even check your fuel level.  If you have a tendency to lose your car in the parking lot, Ford Pass is your answer and allows you to located your parked car and view the current mileage; right from the application.  
VEHICLE HISTORY & HEALTH
When you download FordPass and add your Sync Connect compatible vehicle you can better manager your Ford vehicle by keeping track of your vehicle service history, checking recall alerts or even scheduling service with Gresham Ford, all from your Ford Pass app on your phone. 
PARKING
Ford Pass also helps to make parking a breeze.  In select cities, like Portland, members can even pay and reserve their spot before hitting the road.  
FUEL
The Ford Pass application also helps you find the least expensive fuel station near you or along your route.  
Now that you know how fantastic this new technology offered by Ford can be let's help you get it set up for your phone and vehicle.  Remember that if you have any questions or run into any problems, please feel free to stop by the dealership.  We are happy to provide support even after the sale.  There are a lot of buttons and functionality and we are here to help ensure you get the most our of our new Ford vehicle. 
How to download Ford Pass
Click to DOWNLOAD Ford Pass on Your Apple Device
Click to DOWNLOAD Ford Pass on Your Android Device
Download Ford Pass to your smart device.  You will be prompted to create a Ford Owner account via the FordPass app with some basic information about you and your vehicle. 
Create a four digit PIN  for security on your smart device. This helps to ensure that if your phone is stolen they will not be able to access your vehicle as well. 
Add your vehicle by:
Tapping the My Vehicles Card
Tap Add Vehicle
Enter your Vehicle Identification Number which is found on the inside of your drivers door or on the drivers side of the dashboard nearest the windshield.   
A confirmation message will verify your entry. 
Tap Finish
Tap Activate
Start your vehicle. 
A message will pop-up on your Sync touch screen.  Touch to allow the connection to your phone and the Ford Pass app.  
Touch Continue at the GPS notification on the touchscreen when it appears.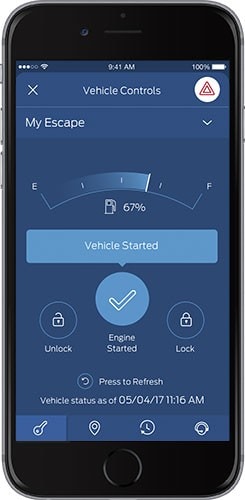 Now that you have downloaded Ford Pass to your smart device you can access more to enjoy your new Ford vehicle including Vehicle Controls.  Start, lock and unlock your SYNC  Connect equipped vehicle and even schedule remote starts.  This comes in handy to warm up or cool off your car before you leave in extreme weather.  This is truly the easier way to defrost your windows too!  This new level of connectivity allows you to take advantage of the following Vehicle Control features:
VEHICLE STATUS
You can check your fuel level and plan ahead if you need to stop and refuel.  Your ability to check your approximate mileage and miles until the next recommended service allows you to plan ahead and make better choices.  
REMOTE LOCK AND UNLOCK
You can also press and hold to unlock or lock your vehicle doors from virtually anywhere.  
VEHICLE LOCATOR
Press to see the location of the parked vehicle.  This makes it convenient for members to quickly find and get back to their parked vehicle.  
Still have questions or need additional assistance?  Please feel free to reach out to our customer support team.