Serving Our Customers
and
Our Community


We are committed to be a different kind of car dealer; one that provides an outstanding level of customer service and value that keeps you coming back for years to come.  One of the ways that we're different is being involved in the community.  Our Contribute to the Community Program has successfully helped hundreds of local non-profits, charities and churches that are most important to our customers.  


Directions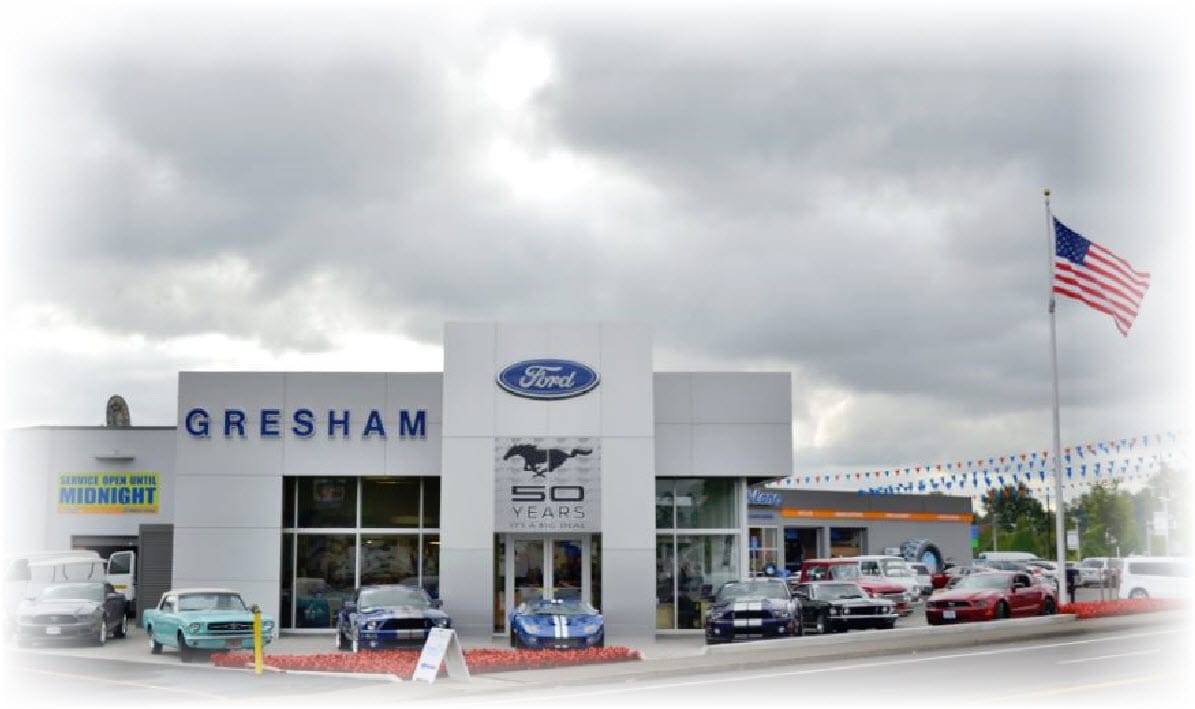 Get onto Interstate 84/US Highway 30 and follow I-84 to NE 238th Drive Wood Village at exit #16 from I-84.  Then follow NE 242nd Drive to East Powell Blvd in Gresham.  You will see the big blue oval and the dealership on your left hand side.   
Get onto Interstate 84 westbound.  Follow I-84 to NE 238th Drive in Wood Village and take exit #16 from I-84.  Turn right coming off the freeway and follow NE 242nd Drive to East Powell Blvd to Gresham Ford.  The dealership will be on your left hand side.  
We encourage you to take a look at our reviews and see what others are saying about us.  We strive to provide the best value and customer service possible because we want to be your dealership of choice!
Gresham Ford may be outside Portland but many car buyers say the drive is worth it.  You'll appreciate the relaxed, no pressure environment that allows you to ask all your questions and test drive as many cars as you want without the pressure of a pushy salesman in polyester.  
Our Sales and Leasing Professionals will communicate with you how you prefer.  Whether you prefer email, texts, video chat or a good old phone call we want to provide you with the outstanding service you deserve so that you can get the car you really want to drive.  
The majority of our customers are repeat customers and their referrals to friends. family and co-workers.  We truly work harder to get you the best price and terms possible.  One way with the Ford X-Plan Program that provides pre-negotiated pricing to the employees of companies that provide Ford with services and products.  We also work with over 100+ different lenders, including credit unions to get you the best APR and terms possible.  Bottom line is that we provide support even after the sale and want to be your Ford Dealership of choice for life. 
There are plenty of Ford Dealerships in the Portland Area to choose from to buy your car.  We suggest that you look at a few factors when choosing a dealership:
Price - Gresham Ford provides a price match guarantee on all the vehicles listed for sale.  We will not be beat on price and will work hard to find you all the discounts and benefits you qualify for like military and veteran discounts.  However comparing apples to apples can be difficult when dealing with Salesmen.  Ask for the invoice and compare the equipment listed to ensure that you are comparing similar vehicles when considering price.  
Reviews - See what other people are saying about them.  See what kind of response the dealer provides negative reviews.  
Does the dealership attempt to correct the situation?  
Does the dealership respond to their reviews at all?

   

Does the dealership respond in a timely manner?
Availability - Gresham Ford provides a locating service that brings any Ford vehicle to our dealership and you.  Many dealerships refuse to go the extra step, expense and coordination to get you the car you want; many will just try to sell you the vehicle that most closely resembles the car you really want.  Don't settle with the largest purchase you will make all year.  
Longevity - Consider the longevity of the dealer employees.  Will the people making you promises be there in another year or two when your lease expires?  Many Gresham Ford employees have at least 10 years working for Bess Wills and will be available to you for years to come.