From New and Used Sales to Parts and Service, Gresham Ford Aims to Provide a Truly Stellar Automotive Experience
There are numerous reasons drivers choose Gresham Ford. Proudly serving Gresham, Portland, Clackamas, Sandy, Oregon City and Happy Valley, our teams of sales advisors, service technicians and financing experts are trained with one focus in mind: the customer.
That means you can expect to learn all of the features of the specific new F-150, Superduty, Fusion, Escape or Focus you're interested in. In the market for a used car? Our team will be happy to fill you in on each of the reliable options in our inventory. And when the time comes for you to drive home your next car, our auto finance team is standing by with solutions to fit your individual needs.
At Gresham Ford, our commitment to excellence does not end with the sale, though. In order to ensure a positive ownership experience, we staff an onsite auto service and repair department. And for those of you who prefer to perform their own work, we also maintain a vast collection of auto parts for sale in Gresham.
Gresham Ford truly has every one of your automotive needs covered. The only question left now is how we can best serve you. To take advantage of any one (or more) of our services, be sure to contact us today, or stop by and see us in person at 1999 East Powell Boulevard Gresham, Oregon today.
A Word From Our General Manager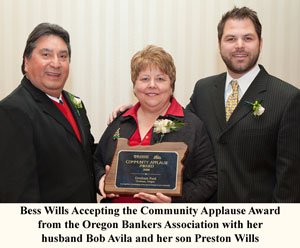 "I hope you
realize what 
a 

blessing 
it is to live 
here."


In 2003, I was managing 3 automotive dealerships in the Los Angeles area when I was asked to take over running Gresham Ford as well. At first, I saw this as just a temporary assignment to get the organization running smoothly and profitably without causing too much disruption to my life. But there were plans bigger than mine in the works.
I soon fell in love with the people of Gresham and the Portland area. Everyone I met had a warmth and friendliness I hadn't experienced anywhere else. I eventually learned to love the rain, although I'm still not fond of the Gorge winds! It wasn't long before I gave up the dealerships in Los Angeles, sold my house and moved my family to Gresham to make this our home.
I felt the city had adopted me and I decided I wanted to return the blessing. When a customer mentioned in passing there were, at that time, more than 4,000 people in Gresham going hungry, my staff and I took an afternoon and went door-to-door collecting food for Sno-Cap, the regional food bank. Later I learned a lady working for us had recently overcome homelessness through the help of Cathe Wiese and My Father's House. I began to see how small organizations all over the city were truly making a difference in the lives of others. Helping them became my obsession. We met as a staff to discuss how we, as a company, could do more to help the community than just run an honest business. Our Parts Manager, Mike Amato, suggested starting a fund where everyone on staff could contribute a portion of their pay to help people as the needs arose. The employee fund has helped pay for things like medical bills for a family in the community whose child needed lifesaving surgery to replacing a transmission in a van for a family that had just gotten off welfare.

Several years ago, we decided to get our customers involved and started our "Community Support Program". We donate $100 with the purchase of any new or used vehicle, and 10% of all service work, parts and labor, in the customer's name to the charity of their choice. As a result, we have been able to help literally hundreds of different organization improve lives throughout the region and the nation.

I am honored and humbled to be a part of this wonderful city. Thank you for allowing me and my staff to serve you.
Bess Wills
General Manager